Welcome to Stardust@home's Duster of the Month! Each month we will highlight one of the many Stardust@home volunteers (or "Dusters") in our blog. The questions asked are designed to enlighten us about the very important human aspects and motivations of the project's most valuable asset. Each month there will also be a new question from a random member of the science team. If you would like to be a featured Duster of the Month, please send an email to stardust-dom@ssl.berkeley.edu.
This Month's Featured Duster is
Evelyn R. Smith
AKA: ERSTRS and SmithES in the Stardust@home community forum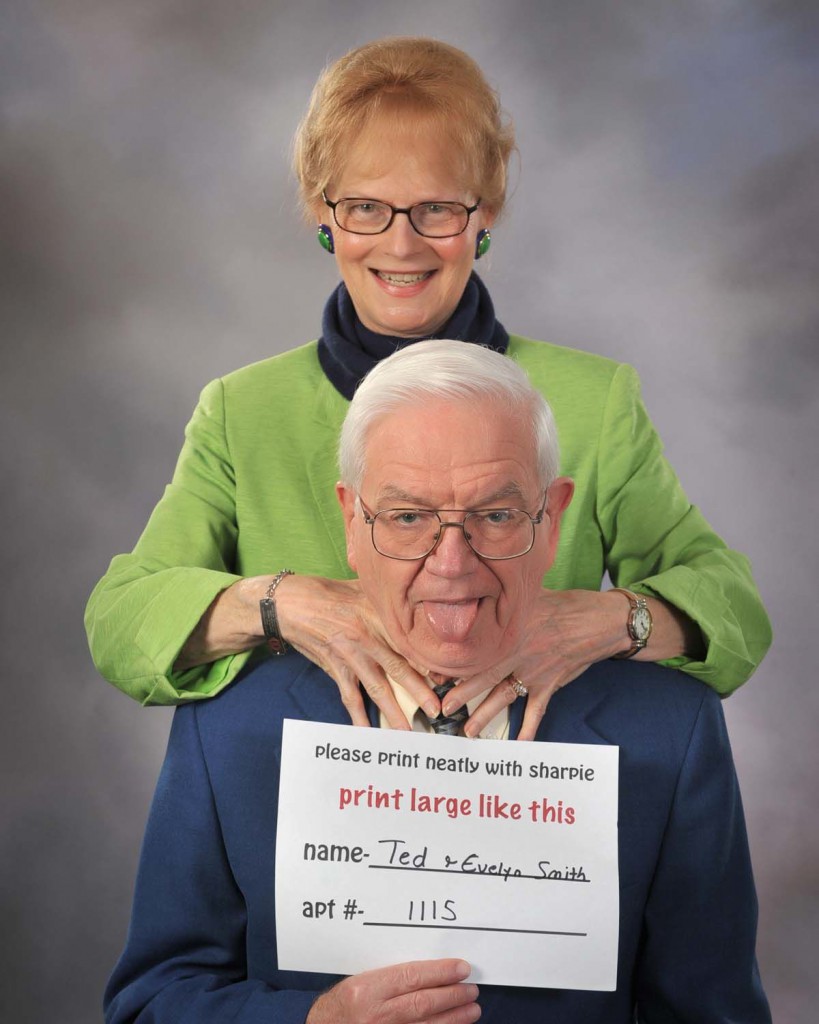 Photo explained: We live in a retirement community and everyone was asked to take a picture for our in-house directory on 3/3/10, which also happened to be our 60th wedding anniversary. When the photographer asked us to smile for a "test shot," I put my hands around my husband Ted's neck and squeezed. The photographer burst out laughing. I didn't know Ted had stuck his tongue out! He now carries a copy of this photo in his billfold everywhere he goes. Note: I photograph much younger, but up close I really do look like the senior citizen that I (proudly) am!

1. Tell us a little bit about yourself (but please also note questions to come):

It's all in my answers below . . .

2. What part of the world do you currently live?

Charleston, WV. The only State to be formed out of another State. The part of Virginia that became West Virginia joined the North during the Civil War, while the rest of Virginia joined the South. Dear old Abe rewarded our faithfulness to the Union by declaring us a new State on June 20, 1864. I was born on June 20, 1929. Hubby Ted says that he's never had to buy me a birthday present—because he just takes me around to all the freebies (ice-cream, food, parties, activities, shows, etc.) offered by my State each year. (That's almost the truth!)

3. Have you always had an interest in science?

Yes. In 7th grade, my science textbook said, "The atom is the smallest particle known. It cannot be split." At that age, I believed every word in my textbooks, so I was shocked out of my skin when in high-school I learned that scientists had split the atom! That led me into "science." I wanted to know more about the atom and all things connected with physics. I had my first peek through a telescope at the Moon and wanted more. Later I worked as a lab-tech at West Virginia University, Ohio State University, and Union Carbide. Ted is a chemical engineer, and we've been married 62 years. We share the same interest in science.

4. Why do you dust?

Looking at samples on my computer desktop that came from beyond the orbit of Planet Earth fascinates me. It is a privilege to be a part of a Team, looking for interstellar dust particles. I am fascinated with comets and all things in the Solar System, as well as the rest of our Galaxy. I'm also very much interested in whatever life may be out there. I'm following Voyager 1 right now as it leaves our Solar System bubble, and enters the unknown Universe beyond. In my next life, I am looking forward to traveling, in another dimension of course, through it all!

5. How do you connect to the internet (e.g., DSL, Cable, modem, Satellite)?

Super-fast-Cable. Takes just a few seconds to be on and dusting.

6. Are you involved in any other "citizen science" projects?

Occasionally. But at age 83, not many folk seek my help with projects. However, our church operates a first-class-award-winning-private-school, so I do help with science projects for the students when asked. My husband Ted reminded me that our job at church might be considered involvement in a "scientific project." Ted and I have had Apple computers since beginning with the Apple Baby Mac in 1985. Now we have a 24-inch iMAC. For five years, we have been on the Tech Encoding Team that captures the church services each Sunday and puts them on our church website and the Internet. (Our Production Control Room is equipped with iMacs and all things "apple.") The Director of the Tech Team is 23 years old. We were 60 years old when he was born, and we are 40 years older than the next guy, age-wise. Our church staff gets a big bang out of the "two old codgers" on the Production Team.

7. What is your overall life philosophy, or are there words you like to live by?

"Be yourself; everyone else is already taken." ~ Oscar Wilde

8. What have you seen, heard, or done that has most amazed you?

Are you kidding? Just being alive at this period in time leaves me awestruck! So glad I wasn't born in the middle ages. One thing I will never get over, though, is the privilege of watching Armstrong take that first step on the Moon!

9. What about you surprises people the most?

What I hear most often is, "What you see, is what you get with Evelyn. No pretense, right-up-front-honest." I might add here that I was blown away when Dan Z asked if would accept "Duster of the Month!" I'll be bragging to all my friends!

10. What are your thoughts on the current state of NASA's human space flight program and the retirement of the Space Shuttles? (the Stardust@home team question of the month)

I am sorry that funding for Orion and a return to the Moon has been cancelled due to lack of funds. We must return to the Moon before we go to Mars so the new astronauts can be trained for out-of-orbit-travel. Also, we have to prove we can send a probe to Mars, land it, and then return to Earth before we can send a Team to Mars. That the very basic first step—return to Moon—was cancelled, saddens me, because at my age, I'll not live to see Earthlings on Mars!